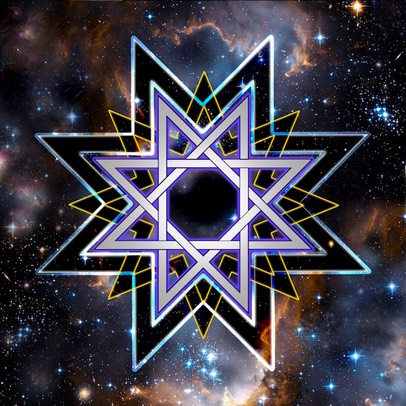 Each of the Between The Worlds conferences has included a powerful main ritual and the last 5 were a cycle focused on the turning of the Ages. In many ways, they are really one multi-part ritual spread out over the course of years. This Between The Worlds, the main ritual is a standalone anchored to the 7th and last of a sequence of Uranus-Pluto squares.
At the conference there will also be a class with a pathworking to prepare people for the ritual that we encourage you to attend. The class will be repeated 3 times and we hope that you will make it to one.
BTW 2015 Main Ritual: The Star Of Renewal 
I.   Purification & Sealing
We are purified by salt water and incense as we enter the ritual space. As we take our places, most standing, some seated we chant:
There Is No End, Nor Beginning
There Is Only Change  1 
 Click To Listen Or Right Click To Download  
After all have entered the Temple is scribed and sealed. When prompted during the scribing, chant:
Braid The Cords Together, Red, Orange, Blue, And Green.
Call Our Allies To Us, Seen And Unseen.
 Click To Listen Or Right Click To Download  

II.   Let The Shining Self Arise 
In times of trouble the best within us must be bolstered, must arise. Hear the summation of the work of the ritual, our renewal. Be guided in letting your Shining Self arise. 
Listen to the chant, feel the meaning, and join in after the first verse if you know it.
If I Will, Then Will Is Hope

If We Will, Then Hope Is Magic 
Shining Self Arise 
Oh Magic Is Forever

No Storm Can Last, All Tears Do End 
Shining Self Arise 
No Nothing Is Forever

Not Even Loss Or All The Lost 
Shining Self Arise 
But Magic Knows No Ending 
By Mystery Alone We Hope
Shining Self Arise  2
 Click To Listen Or Right Click To Download  
Then we settle into an awareness of our shining selves with a free form chant:
I Am, I Am, I Am
III.   The Blessings Of The 5 Mothers 
Listen as the Mothers bless us with the powers of Hope, Love, Faith, Peace, and Gnosis. Raise your voice and embrace these gifts. Between each blessing we chant:
In The Name Of The Divine Goddess  3
 Click To Listen Or Right Click To Download 
IV.   Calling The Powers Of The Sphinx 
The Powers of the Sphinx, the Magus, are called so we can create the Witches' Pyramid. The power to Dare, to Know, to Will, and to be Silent are enlivened within us. 
Through the might of imagination we form the Pyramid and we become the Sphinx.
V.   The Star Of Renewal
We claim the powers of the Mothers & the Sphinx, and we call the Star of Renewal. The light shines from our brows and crowns as we circumambulate and chant:
We burn with the power of a million stars. 
We turn with the cycles of the fertile earth. 
We burn with the power of a million stars. 
We turn with the cycles of the fertile earth. 
We are children of great promise. 
We are inheritors' of magic's spark. 
We are children of great promise. 
We dance the light out from the dark.  4
 Click To Listen Or Right Click To Download 
VI.   Seeing Each Other As We Are
Look at each other and see each other's beauty. If you are moved to do so, circle, dance, and mingle round. We chant:
As We Walk The Circle Round,
Change And Transform

As We Dance On Sacred Ground,
Shine And Rejoice

Look At Each Other. 
See The Sun, Moon, And Stars

Look At Each Other. 
See The Sun, Moon, And Stars   5
 Click To Listen Or Right Click To Download 

VII.   Hail And Farewell
We give thanks to all who have gathered, and the Temple is unsealed. We depart chanting:
Sing through my voice
Play through my hands
Let the way be open.   6
 Click To Listen Or Right Click To Download 

Chants 1, 2, 5 by Ivo Dominguez Jr. (This version sung by members of the ASW)
Chant 3 by Shakmah Winddrum (This version sung by members of the ASW)
Chant 4 by T. Thorn Coyle from Songs for the Strengthening Sun by Sharon Knight and T. Thorn Coyle
Chant 6 by Abbi Spinner McBride from Enter The Center Look her up at http://www.cdbaby.com/Artist/AbbiSpinnerMcBride