Welcome to Keepers of the Holly Chalice
a coven of the Assembly of the Sacred Wheel.
Assembly of the Sacred Wheel Statement of Belief and Advocacy On Systemic Racism & the Militarization of the Police in the United States
It is the belief of the Assembly of the Sacred Wheel that abuse of power, racism, discrimination, marginalization, and dehumanization, in all forms, are the manifestations of profound soul sickness.  It has persisted throughout human history in one form or another and will until the soul of humanity is evolved beyond it.  Each time it is perceived anew, it is the duty of those possessing awareness to fight, transform and heal this sickness and the horrors it produces - to work with Higher Heart to not only lessen manifest suffering and injustice here and now, but open the way for the influence of true higher-self in human consciousness.
More…
Immunity Booster Sigil
During these stressful times, it's vital that we as individuals and magick workers keep ourselves well warded against the spreading epidemic. To aid you in this, we have prepared a visualization based on Laura Tempest Zakroff's "Immunity Booster Sigil".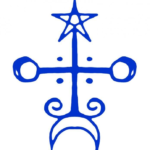 More…
Coming Up…
No upcoming events right now. Please stop back later.
Who We Are
Keepers of the Holly Chalice is a Wiccan coven based in North-Central Maryland. We draw from many sources for our rituals, celebrations, and magick, with a focus on mythic lore, Astrology, and Qabala. We are members of the Assembly of the Sacred Wheel which arose from our beginnings in 1984 and later became incorporated as a Wiccan tradition. The Assembly currently has thirteen covens ranging from Southern Delaware to Northern New Jersey and westward to the outskirts of Washington, D.C. As a service to the community, we sponsor a number of open circles, workshops, and social gatherings each year. Our activities take place in Harford County Maryland.
More…