Assembly Of The Sacred Wheel
Last Updated February 9, 2012
---
Seelie Court Wiccan Sweats
Public Sweat Dates:
2012
February 11th
March 24th
April 28th
May 12th
-- Summer Break --
November 17th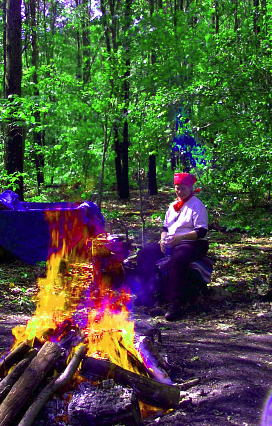 Outdoor Fire Ban
From time to time the sweats will be cancelled or rescheduled if there are dry and/or windy conditions that lead to outdoor fire bans by the State of Delaware's Fire Marshall. Check this link for further info: delawarestatefiremarshal.com

By Reservation Only
Sweats are held on Saturdays and we conduct one in the morning and one in the afternoon. Call us to reserve space as a lodge will only hold a small number of people. Also some sweats will be women only or men only, call for information.

Call (302) 855-9422 or

Email me: Panpipe@seeliecourt.net
If your plans change after making reservations, please call or email so we can adjust the list. Also check the day before to make sure that your sweat is still scheduled. We won't waste resources and will combine the sweats or cancel them unless there are sufficient reservations
Stone Lodge:
As many of you know, we built a Stone Lodge. The Stone Lodge was built from all the stones that have been used in previous sweats on our land and stones that have been left on the mound or given to us in some other sacred way. It took a year and a half to build it after collecting stones for several years. We give thanks!
When we have large groups or special rituals we use the Stone Lodge. A more traditional sapling lodge is used for smaller groups and most public sweats.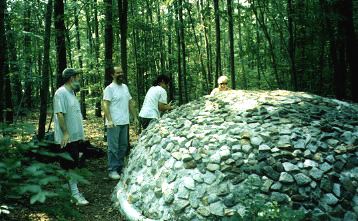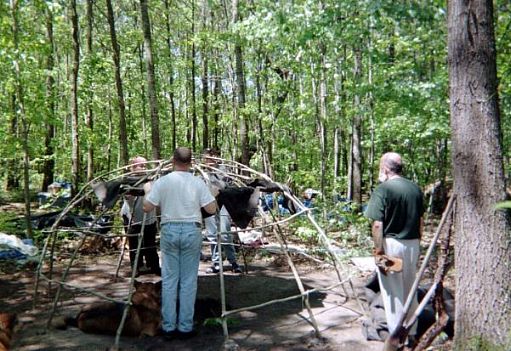 Wiccan Sweats
The sweats at Seelie Court use Wiccan protocols developed within our tradition (Assembly of the Sacred Wheel).


Traditional Sweats
On occasion, guest Water Pourers who follow native or other paths will bring their tradition to our lodge.


Times:
Please plan to arrive by 10:30 AM for the 11:00 AM Sweat, and 1:00 PM for the 1:30 PM Sweat. If you would like to attend the fire ceremony arrive by 8:30 AM. Plan on spending some time after the Sweat to rest and eat before departing. This can vary from 30 minutes to a few hours depending upon the person.


Check List Of Things To Bring
A requested donation of $15 to cover costs of fire wood, stones, mailings, guest Waterpourer's transportation, etc. Donations of firewood. quilts, blankets, sheets, stones, labor, etc. instead of money are also welcome. No one will be turned away that cannot pay. There is a basket out for donations-- no pressure, nobody will ask you.
Food or drink to share after the Sweat while you recover.
Change of clothes and a towel.
Small symbolic gift for the Water pourer (shells, feathers, herbs, etc.)
You will be asked to sign a release form before sweating.


About The Sweats:
The Sweat Lodge Ceremony is very powerful and is not for everyone. It is an ordeal for healing and purification that is strenuous and taxing for both the body and the spirit. You will be asked to sign a release form in order to participate. Feel free to call us and ask questions.
We, in our household, are not Native American so we recognize that our Sweats are not Native Sweats. We honor the wisdom of Native traditions as we create our own ceremonies. The Sweat Ceremony has existed in some form or another on every continent in a wide array of cultures.

Chants
These are the four elemental chants used in our Wiccan sweat protocol. Other chants are also used but these are used in every sweat we do. To listen to these chants you will need the Real Audio player (version 3 or later).

You can get a free Real Audio player at the Progressive Network's Real Audio Site.


"Sylph Song"
Airy Messenger
Clear The Clouds From Our Minds
Whispers In The Winds
Words Rustle Through The Leaves
Inspiration Spins
Liker Feathers In The Wind
Sweet Air We Breathe Deep
New Promises We Keep


"Fire Soul"
Fire,
Fire Soul's Desire
Changer Change Me
Burning, Burning, Higher


"Waters Of Life"
Water, Waters Of Life
Gentle Rain, Soft Mist, And Tidal Pools
Hot Beating Blood
Cool Ocean Deeps
Water Of Wonder
Mystery Of Our Hearts
Water Of Wonder
Mystery Of Our Hearts


"Earth Spirits Chant"
Guardians Of The Dreamtime
Shapes And Forms
Roots Of The Mountain
Silent And Deep
Earth Spirits Dreaming,
Awaken To Our Touch
Shapers Of The Crystal, Shapers Of The Leaf
Shapers Of The Valley Beneath Our Feet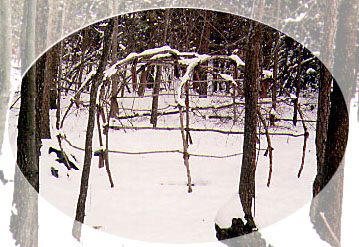 Location
The Sweats are be held at Seelie Court which is about three miles NW of Georgetown, Delaware. Approximate drive times from major cities: New York 4 1/2 hours; Philadelphia 3 hours; Baltimore 2 1/2 hours; Washington, DC 2 1/2 hours.

Click Here For Directions


---
Assembly Of The Sacred Wheel

Email me: Panpipe@seeliecourt.net
Subscribe To The Announcement List
---